Conspiracy?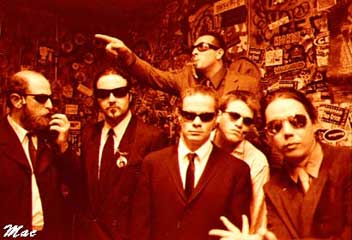 I just did a radio show about the Huffington Post Troll Scandal.
You can listen to the show
here
. Or look for it
here
. And read what the show wrote about the HuffPuff Troll Scandal
here
.
Like many others, they asked if the HuffPuff Troll was the only reason for me to get fired.
And like many of my readers they pointed out the money connection between HuffPuff, JWT and the drug industry.
Always follow the money. Find out the motive and then you find the killer. Or the people who conspired to have you fired. That seems to be the general consensus.
So I decided to take a look.
First, it is no secret that I have a couple of lawsuits going with the world's biggest pharma company as the defendant.
Second, it is also no secret that this pharma company doesn't like the fact that I talk to the media and that I had access to the Huffington Post and my own blog.
They pointed out the fact that I was blogging on Huffington Post and on my own blog in a letter to the judge on May 30, 2006, and they didn't seem very happy about it.
So of course, it is natural to suspect that the drug industry might have done what they could to shut me down at HuffPuff.
But from that assumption to any real proof there's a long way.
And, of course it is most likely that HuffPo fired me simply because they went nuts when I disclosed that their technology manager acted as a troll on my blog.
But did the HuffPuff have something going on, to try to shut me down, because of their advertisers?
Was HuffPuff asking me to blog less frequently? Yes. Once, a month ago. And I did follow this instruction. Did they tell me not to do critical drug company posts? No.
Those who see a conspiracy point to the following:
Ten days ago I wrote a blog for the Huffington Post called "
Am I Crazy Paranoid . . . ?
"
In this blog I noted that the WPP group had become one of my readers. This group owns many PR and and advertising firms and it could have been any one of them looking at my blog. That doesn't mean anything in itself. But one of the companies the WPP group owns is JWT.
And we know the following about JWT: In 2003, JWT was one of the main beneficiaries of WPP's acquisition of smaller marketing group Cordiant, absorbing local offices of Cordiant's
Bates Worldwide
network in several markets, including the UK and France. JWT also took over control of the
various Pfizer accounts
handled by Bates, as well as staff working on them in the US, London, France and Peru.
So JWT is connected to the drug industry.
Ten days ago the New York Times wrote that "
JWT Puts a 'Roadblock' on Huffington Post
."
The article stated, "JWT, the oldest advertising agency in the United States, has purchased all the ad space on The Huffington Post home page for one week, starting tomorrow."
How much does HuffPo get paid, you may wonder? In the article "
JWT buys out Huffington Post ad space
," the Guardian tells us that HuffPo charges more than any other online journal. "A typical one-month ad on the Huffington Post homepage ranges from $120,000 to $145,000 but sources believe the one-week deal has cost JWT something in the low six-figure dollar range. "
The NY Times continued their article, "At The Huffington Post, the agency has found an experienced partner in Jonah Peretti, a founding partner of the Web site, who is overseeing the technical aspects of the JWT project.
Mr. Peretti's name has been tied to viral media since 2001, when he traded e-mail barbs with
Nike
after the shoemaker refused to let Mr. Peretti order a pair of customized Nike iD sneakers emblazoned with the word "sweatshop." Much to Nike's chagrin, the e-mail exchange quickly spread over the Internet, and is considered an early example of how viral media can work.
Now Mr. Peretti and The Huffington Post are hoping to make a handful of previously run commercials from JWT alluring enough that visitors will not only click and watch the spots, but will also e-mail them to others.
"People often ask me, 'how do you make something viral?' " Mr. Peretti said. "The truth is, you just make something good. That doesn't make something viral, but some of them will strike a nerve."
So here we have Mr. Peretti in bed with JWT. Peretti who should have known how viral marketing works and that firing a blogger for exposing a troll may not be a good idea. But he did it anyway.
JWT, like any advertising agency or client, obviously prefers to advertise in newsmedia that don't dish their clients. After all, why pay the media outlet that bites your hand? But JWT didn't run drug company ads on the Huffington Post.
At about the same time as the JWT created ads appear on HuffPo, Andy Yaco-Mink, who reports to Mr. Peretti, suddenly takes a regular interest in my blog and starts spewing invectives, calling me "
insane
," etc.
And some people have also found a connection between
Jonah Peretti
and HuffPuff apolgist and blogger
James Love
. If you do a google search on both names you will find them both on a
not so pleasurable website
.
Does all this mean that the drug industry conspired to use JWT to pressure HuffPo, and Peretti then used Yaco-Mink to post negative replies on my blog to dissuade me from blogging, and perhaps eventually get rid of me, the way some readers have suggested?
No it doesn't
prove
anything.
But it is certainly an interesting or perhaps, entertaining conspiracy
theory
.
There is one more thing; I remember very well Yaco-mink's comment to my post
$10,000 Fine If I Talk
. He replied, "If you just go ahead and don't reveal the confidential information, you can pretty much stop worrying about the fine."
This comment sounded as if it had been written by the lawyers I was figthing against. Now I know better. It was Yaco-Mink.
So of course, a lot of people seem to believe there is something going on here.
As for me, I don't belive anything. I like facts and we don't have them.
Yet.